Even on a budget, you can get a quality closed back headphone that will make a really amazing difference in your sound experience whether you are a pro or an amateur.
Hi there. If you want a really immersive feel when you are listening to your music, then there are no buts about it- you just have to go for closed back headphones. From classical music to the latest pop, a quality pair of closed back headphones will truly envelop you in the music. They also work well no matter where you are because they come with noise-cancellation features. With a pair, you can bop to your favorite music even when you are on the commute to work.
With all the models in the market, I have gone ahead to narrow down to the premium quality options that will not break your bank. After all, who does not like a good bargain?
Comparison table

| Name of Closed Back Headphones | Driver Size | Type | Buy on Amazon |
| --- | --- | --- | --- |
| Audio- Technica ATH M50x | 40mm | Has both wireless and wired options | |
| Sony MDR7506 | 40mm | Wired | |
| Beyerdynamic 770 Pro | 45mm | Wired | |
| Status Audio CB-1 | 50mm | Wired | |
| LyxPro HAS-330 | 50mm | Wireless | |
| Razer Opus | 40mm | Wireless | |
| Sennheiser HD280 Pro | 40mm | Wireless | |
The Best Budget Closed Back Headphones
These are closed back headphones with plush padding for your comfort as well as ease when using them over long periods.
Specs
45mm drivers designed with copper clad aluminum wire and other rare earth magnets
Frequency response range is 15Hz-28KHz
90° swiveling ear-cups
Weighs 285g
ATH M50x are modern and stylish-looking closed back headphones that come at a bargain price yet they have high-end features. For instance, it has a pristine sound like its superior definition when at high frequencies. You are bound to enjoy Beethoven and other classical music because of its sound specifications. The vocal definition and mid-ranges are also well-detailed for all kinds of music genre.
Another winning feature of ATH M50x is its circumaural around the ear cups that makes it a good fit when you want sound isolation even when you are in a loud environment like the subway on your commute to work. They are also easily foldable making them perfect for on-the-go use. The ear cups also swivel (90 degrees) so you can use them on one ear every so often.
The only downer with these headphones is that if you are a pro-audiophile, the bass can be a tad too much.
Pros
Offers an accurate and deep bass response
Comfortable and durable enough for long-term use
Sold complete with a protective carrying bag
Cons
Can be a tad tight for large heads
Verdict
If you are looking for a balance between your comfort and the sound quality you are out for, Audio-Technica ATH M50x is bound to be a great fit. They even have a wireless option.
Sony MDR7506- Designed for professional studio tracking and mixing
Sony MDR7506 is a pair of heavy-duty closed back headphones that are designed to be a great fit for pros and music recorders because of its professional feel.
Specs
Frame is entirely made of durable plastic
40mm neodymium magnet drivers
Frequency response range is 10Hz-20KHz
104dB sound sensitivity
Sony MDR7506 makes the list because of the kind of sound you can expect with it. On high and mid-range frequencies, these headphones hit it right by offering more definition to create a rather rich sound.
Secondly, these headphones are a great fit to listen to all music genres because it literally lets you hear all the notes clearly and naturally.
To add, Sony MDR7506 is lightweight making it comfortable for the lengthy studio sessions. They are also easily foldable. Also, while they are wired headphones, the coiled cable is a breeze to use. You get better reach and mobility with this design.
The only drawback with Sony MDR7506 is that while the frame is made entirely of plastic making it comfortable, it does not have the extra padding. Compared to other headphones, Sony MDR7506 does not have that plush padding that both high-end and budget priced headphones have. If you are a pure bass-head, you can also be a tad disappointed with Sony MDR7506.
Pros
Durable and comfortable for long periods of use
Delivers on accurate and natural sounds
Compact sized and easily foldable
Cons
Does well for studio use mostly
Coiled cord can wear out after a while
Verdict
Sony MDR7506 wins out because of its durability. While they are budget-priced they can last you many years with minimal wear and tear. They are also lightweight enough for your comfort even when using them for long.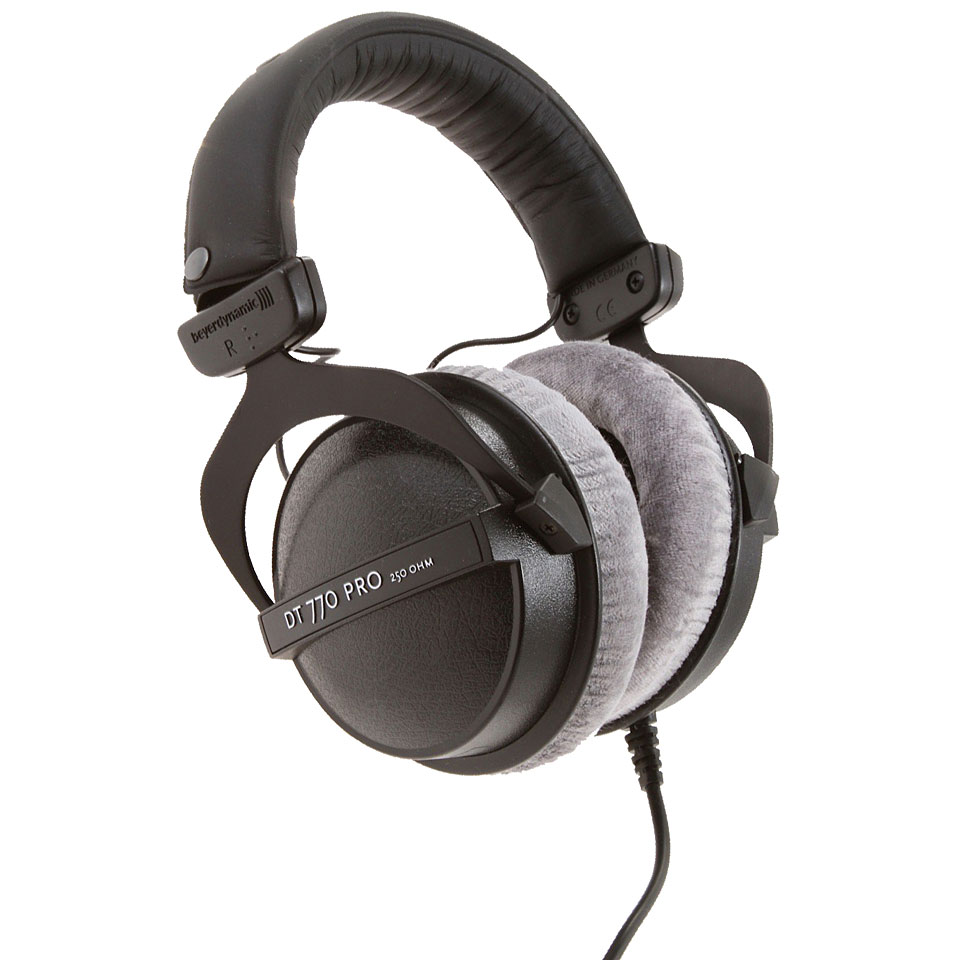 Beyerdynamic 770 Pro has pillow-soft is a pair of headphones that do not compromise on your comfort while still being budget-priced.
Specs
Made with soft velour material over the ear pads for comfort
45mm dynamic neodymium drivers
Frequency response range is 5Hz-35kHz
Weighs 270g
Aside from the high-end comfort you get with Beyerdynamic 770 Pro, the sound is nothing short of impressive.
As it is with closed headphones, you get clear and detailed sound with this pair especially on high frequencies. They come in three different impendences ranging from 250ohm to 32ohm. If you are specific about your sound, the 250ohm is easily one of the best versions especially if you already have an amp/DAC.
To add, 770 Pro is well-built to last you quite a while with impressive usage. The soft velour gives you the smooth feel but it is also sturdy enough for a tight and long-lasting grip over your ears. The last thing you would want are headphones that slip about. They also come with the additional feature of removable headbands in case you get hot or sweaty after using them for long.
As for its imperfections, it is quite heavy and it is not foldable. This does not make them ideal if you are looking for headphones to use on-the-go.
Pros
Large and plush padded ear cups
Sturdy and durable
All parts are replaceable
Verdict
These wired headphones have bass reflex technology and other sound specifications making them ideal for studio use mostly. They are also built to last you a while.
Status Audio CB-1- Fitted with 50mm drivers best for audio engineers and music producers
The winning feature of Status Audio CB-1 is that it is best suited for studio use like music creation, mastering and mixing.
They are bound to be good enough even for the most picky people when it comes to sound quality.
Specs
Two detachable cables with twist-lock function
Plastic frame and soft leatherette ear cups for added comfort
50mm drivers
Weighs 227g
Status Audio CB-1 is a pair of comfortable and durable headphones. The ear cups are large and well-padded so that you can go for long periods while using them. They also have detachable cables that have a twist-lock system which makes them all the more durable while still being comfortable enough.
To add, Status Audio CB-1 has rather quality noise cancellation features. They let in/out minimal sound so you get an immersive feel whenever you have them on. You can also use them on-the-go as they have an easily foldable design in case you want to use them while traveling. The downer with this pair is that it is rather flimsy. You need to be gentle with them to have them last a while. The ear cups also easily scratch and stain.
Pros
Comfortable fit for a wide range of users
Easily foldable
Recreates solid sounds for all music genres
Cons
Not entirely comfortable if you have a large head
Made with rather flimsy materials requiring care whenever you use them
Verdict
While you do get quality hardware specs like the large drivers with this pair, the poor timing and rather weak lower mid-ranges can be a deal breaker for some.
LyxPro HAS-30- Has a sleek design like professional studio headphones
This pair of headphones is made with thickly padded ear cups and a leather headband for your comfort whenever you use them.
Specs
Frequency response range is 15Hz-26KHz
50mm drivers
Two detachable cables (coiled and straight)
Ear cups are 180 degrees rotating
Weighs 299g
As for its sound specifications, LyxPro HAS-30 has been designed to deliver on natural yet deep sound detail for all kind of genres.
It has 100dB sensitivity as well as a frequency response range of 15Hz to 26 kHz. To add, LyxPro HAS-30 has that sleek design making a great fit for recording/studio purposes. The ear cups are also easily replaceable in case they wear out.
LyxPro HAS-30 is a good fit for on-the-go use because it comes with both straight and coiled detachable cables together with the package. They are also foldable to keep them out of your way when you want.
While it does have its glowing features, it is not without fault though. For example, LyxPro HAS-30 is not the best buy if you are looking for total noise cancellation. This pair might also be a tad disappointing if you are a bass-heavy head.
Pros
Has a rich, natural sound to it
Comfortable enough for long periods of wear
Sleek, all-black design
Cons
Quite bulky
Does not have good noise-isolation specs
Verdict
Right out of the box, you get sturdily built headphones that can deliver on impressive sound quality. It also has a rather simplistic design that is still efficient like its replaceable ear cups, swiveling features and stainless steel frame for durability.
Razer Opus is a budget-friendly pair of closed back headphones that still has premium quality features like ANC activation and a sturdy yet comfortable build.
Specs
Intuitive control system with buttons for calls, ANC activation and volume
Offers customization features via graphic EQ and presets on the Razer Opus
Sold with a durable carrying pouch
Weighs 263g
With a sleek design, you get a lot of bang for your buck with these headphones. First, they have an impressive ANC system that cancels out all kind of noise. This makes them a good fit for commutes as well as if you are in a loud environment. It is fitted with buttons that you can use to tweak volume as well as activate the noise isolation features.
To add, Razer Opus also delivers on well-balanced sound that can be easily customized using the Razer Opus app. It can also last you up to 33 hours without having to recharge it every so often. They are well-padded enough that you will experience minimal fatigue or sweat build-up if you do decide to use them for that long.
The only drawback with Razer Opus is that you cannot switch between your laptop and phone as you use it. It does not allow for pairing between multiple devices.
Pros
Can last more than 30 hours on a single charge
Impressive noise cancellation features
Well-built and comfortable design
Cons
Does not allow multiple pairing between devices
Cannot be used once you have placed it on the charger
Verdict
Razer Opus does stand out because of its noise isolation features as well as its customization features using the mobile app. With it, you get a fully immersive feel specially tweaked to exactly how you want your sound.
While Sennheiser HD 280 Pro is not jammed with fancy high-tech features, it does not lag behind in the kind of comfort and sound quality you should expect with it.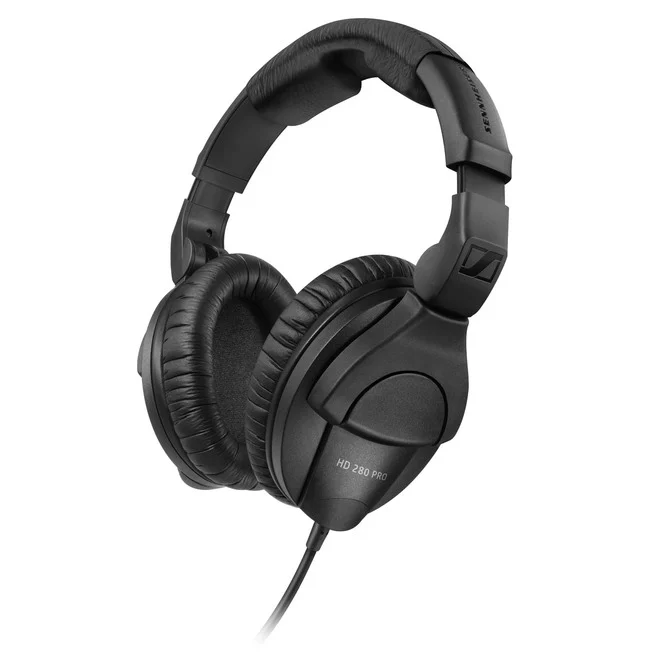 Specs
Frequency response range is 8Hz-25 kHz
Weighs 285g
64ohm sound impedance
Sennheiser HD 280 offers a well-defined sound to it. From the mid-ranges to bass, Sennheiser offers a balanced yet aggressive balance to it.
The soundstage and noise cancellation is also detailed enough to make them a good fit wherever you want to use them.
As for its comfort, you get plush padding as well as large ear cups that are a good fit for a wide range of users. It uniquely foldable design also makes them a good fit for on-the-go use. The swivel ear cups also add to their versatility.
Its only con is that the leatherette can get a tad sweaty after using them for long. The cable is also not easily detachable compared to similar priced headphones.
Pros
Comfortable
Easily foldable
Delivers on noise-isolation
Cons
Mostly designed for professional use
Verdict
While Sennheiser HD 280 does have its imperfections, it has been tweaked over the years to deliver on its sound quality and comfort feel even when using them for long. Do keep in mind that they work best in a professional set-up.
Factors to consider when buying Best Budget Closed Back Headphones
Material
Even when you are going for a budget buy, you should look out for the best material. Some of the good quality materials you should look for are durable plastic on the frame and extra padding. Together, you are guaranteed a comfortable pair that you can use for long periods at a time. To also protect your ears from unbearable heat and sweat build-up you should also go for ear cups that are form fitting and made with soft materials.
Accessories
Some packages come included with extra accessories that come in handy for a good experience with your headphones. You should look out for extra cables, cases and replaceable ear pads among other accessories. While it should not be a deal breaker if the headphones do not come with these, they are usually a good fit depending on your preferred use of the products.
Good Noise Isolation
When it comes to headphones, most people usually go for closed back headphones because of the noise cancellation and isolation features. It would beat the purpose if you go for a pair that cannot properly cancel out the noise so that you get a fully-immersive feel with your music. A good pair is one with form-fitting ear cups that does not let a lot of noise in or out of your headphones.
Wireless or Wired
Even if you are not an audiophile, one of the things you ought to consider is whether the headphones are wireless or wired. For wireless headphones, you get much more range to move around while also maintaining a neat work-area. The only downer with these headphones is that the kind of Bluetooth connection you get with them might not always be ideal when you are far.
With wired headphones, you do get less range of motion as well as a messier workspace but they have their own autonomy. There is minimal signal loss with them and they are also ideal for professionals and perfectionists when it comes to their sound.
Conclusion
While there are many high-end closed back headphones in the market, you can get a quality pair at a budget price. This article has reviewed affordable options that do not compromise on your comfort as well as the sound quality you get to enjoy. The best closed back headphones can really revolutionize your music experience.