Air compressors open doors to multiple possibilities, from running equipment to completing a number of your DIY projects. Air compressors save you money and can be a more efficient and economical power source. While an air compressor is a great accessory to have, you will need to have a quiet one. Working with air compressors is great. Noisy ones, not so much. Finding the quietest 60-gallon air compressor is not the easiest thing. Read below to find the best air compressor with the quietest operation.
What is an Air Compressor
Before we tell you where to get a quiet air compressor, what does it do? An air compressor is a machine that makes good use of physics by changing one form of energy to potential energy. Of all the air tools, the air compressor is one of the most efficient because it can change energy using an electrical or a gas-powered engine to create air pressure stored within a cylinder.
Compressed air has a lot of potential for industrial jobs. Maximum tank pressure can perform unbelievable tasks as the air is turned into kinetic energy from the tank through an air hose. However, pressurized air can be slightly noisy when released, and the noise level can be uncomfortable to experience for long periods. A quiet operation would be an added advantage in these high-performance air compressors, and we are here to share the best of them all.
Which Brans has the
quietest 60 gallon air compressor?
Quietest 60 Gallon Air Compressor
Finding an ultra-quiet air compressor is a bit hard. However, you will have to look no further than our list because we have assembled the best yet. Here is the quietest 60-gallon air compressor you can get on the market.
1) Quincy Compressor
Quincy is not only a quiet air compressor but the most efficient option you will find in the market. Quincy is a lubricated reciprocating air compressor that is built for efficiency. You will run the compressor at low costs in the long run, and you will get your money's worth in no time. The 60-gallon air compressor runs cooler than other compressors and is your best bet when looking for a compressor.
Image Source: quincycompressor.com
2) Ingersoll Rand Air Compressor
The cast-iron cylinder body is just one of the reasons why you should get this air compressor. You will not need a larger tank capacity when you have Ingersoll because the performance is outstanding. Ingersoll is arguably the most reliable air compressor on this list, and you have to consider it for your next purchase.
Image Source: ingersollrand.com
3) California Air Tools
Your 60-gallon air compressor search could very well end here. The California air tools ultra quiet compressor is one of the quietest 60-gallon air compressors you will find. While other compressors have a quiet operation, few offer an oil-free pump. Oil-free air compressors are easy to operate and cheap to maintain.
Image Source: Californiaairtools.com
California air tools give you two running motors that make the compressor outperform any other 60-gallon air compressor. With only 75 dB to deal with, California air tools are one of the must-have 60-gallon air compressors out on the market today.
4) Puma Industries Air Compressor
Puma brings twin-cylinder compressors to the game, and it is unbeatable so far. The oil-free pump is not only durable but more efficient than its single-cylinder counterparts. With 3 cubic feet per minute of air, the iron twin cylinder pump compressor is all you need for your day-to-day work. In addition, the air tool is dynamic and has unlimited uses. Consider this compressor because there are more advantages than every tank compressor on this list.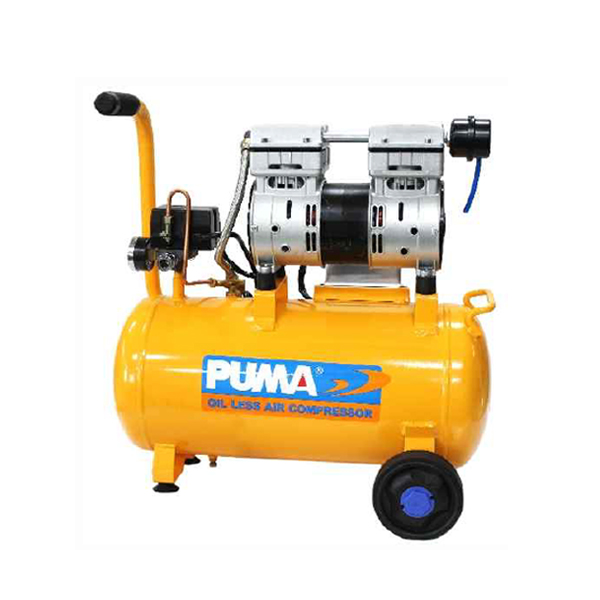 Image Source: pumaair.com
5) Campbell Hausfeld Two-Stage Compressor
Campbell Hausfeld 60 Gallon Vertical 2 Stage Air Compressor...
Features an Oil-Lubricated, two stage pump to increase the compressor's longevity
Designed to tackle a wide variety of jobs, from rotating wheels, painting furniture,...
230 volt, 3. 7 Horsepower, heavy-duty induction motor creates maximum pressure to...
60 gallon vertical ASME tank maximizes floor space, leaving a reduced product...
175 PSI max pressure, 7.6 SCFM @ 90 PSI and 6.9 SCFM @ 175 PSI
The oil-lubricated two-stage pump air compressor you are getting when you buy the Campbell compressor is out of this world. The compressor is made for a wide application, and it is all you need for every DIY and commercial application. With longer life, your projects will run efficiently without any hitches.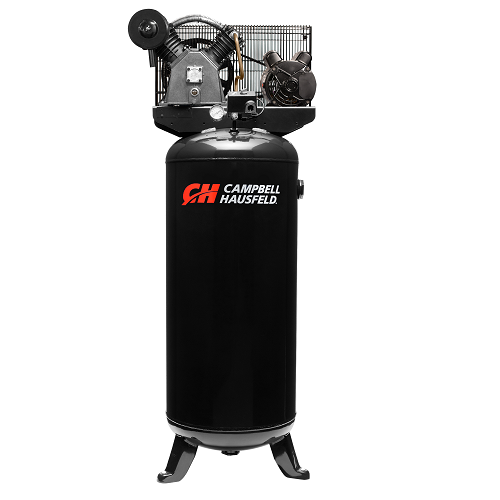 Image Source: Campbellhausfeld.com
What to Consider When Buying Air Compressors
Out in the market, air compressors function in completely different ways, and you have to know exactly what you are going for to make good use of your money. People who own tire shops and auto repairs have a lot of use for air compressors. However, there are other jobs that air compressors can perform, including small to medium tasks. Here are features to look for in air compressors before you buy them.
a) Noise Level
Quiet air compressors are a gem in the industrial world as most air tools tend to announce who they are every waking moment. Air flow can be noisy, especially with a full, large tank with maximum pressure inside. High pressure will cause a lot of noise, and that is understandable. If you can withstand the noise, that would be great. However, noise levels can create a non-conducive work environment for you and your colleagues. A quiet compressor is the biggest favor you can do yourself and your workmates at the workplace.
The noise levels on air compressors are rated in terms of decibels, and you need to look for that information before buying a tank. A maximum of 65 decibels under maximum pressure should be the highest you should go for. Any noise levels above that would not do you any good. Below 55 decibels is great, and you should go for that instead. Less noise is better.
b) Purpose
Why are you buying the air compressor? Once you answer that question, it will be easier for you to navigate your choices when buying an air pressure. Maybe you want to use it on a nail gun, impact wrench, pressure washer or paint spray guns. Once you know the purpose of your purchase, you will have less stress when deciding. A DIYer will not need industrial-grade air compressors. Most air compressors will perform multiple tasks. If you get a 60-gallon air compressor, the tank capacity will cover most activities you would want to do.
c) Power Source
How will you power the air compressor? Some air compressors are gas-powered, while others are powered by electricity. The power source is a huge factor when buying a 60-gallon air compressor and a decision you will need to make.
Electric motor air compressors are easier to run compared to their gasoline-powered counterparts. The air compressors are more efficient and cheaper in the long run. You can run an electric-powered air compressor for longer hours than a gas-powered air compressor. The advantage of the gas-powered air compressor over the electric powered compressor is its portability. If you see yourself moving around with your air compressor, it might be wise to get a gas-powered alternative.
d) Power
In PSI (pounds per square inch), you need to know the power output that the air compressor will give out. If the PSI is high, there will be high pressure compared to a low PSI air compressor. This decision will be made based on your needs, and it should be an easy one to make. If you get a 90 PSI tank, you will be able to cover most of your activities. Higher than 90 PSI will give you enough power to run bigger operations and pump more air.
e) CFM
CFM stands for cubic feet per minute. You are measuring the amount of air the tank can give out in a minute of work. The higher the CFM, the higher the amount of air you can get in a minute. High cfm will be found more in commercial settings. For perspective, you do not necessarily need a high cfm air compressor if you own a garage.
f) Warranty
Warranty is one of the things to look at when buying any product, and an air compressor is no exception. Warranties protect you from many issues that come after making a purchase, including times when you need to make a return. Ensure you read the return policy before buying the air compressor. In addition, you will need to read the manual to ensure you are buying the right air compressor for your needs to avoid any uncomfortable situations with store owners.
Air Compressor Specs
When buying an air compressor, you need to have a checklist of what parts to expect from the product. Think of any machine or device that you last bought. The first thing you did was ensure the specs match your needs and desires in such a product. If you are going to be specific about the phone or the car you will buy, the air compressor is no exception. Therefore, you should expect to see some parts on the air compressor you are checking out.
i) Drain Valve
The drain valve is one feature that keeps the tank safe when in use. When moisture is detected in the tank, the valve removes the water before any damage to the air compressor. With the drain valve, the air compressor will need less maintenance in the long run. Water can be the worst thing to happen to your air compressor because it can lead to damage that requires repair or replacement. An electronic drain valve is better because the air compressor will drain automatically when moisture is detected.
ii) Thermal Overload Protection System
An air compressor with a built-in thermal overload protection system is safe. The overload protection ensures the condenser does not overheat by shutting down the compressor when an overheat is detected. The shutdown period gives the air compressor time to cool down before resuming the operation. Do not be tempted to bypass the overload protection system.
iii) ODP Motor
While running the air compressor, you do not want the heat to build up while simultaneously avoiding any water condensing in the compressor. This is where the ODP motor comes in. The motor will ensure the systems are cool and efficient without going to extra lengths to try and cool the compressor. An industrial-grade ODP motor is your best bet.
iv) Pressure Regulator
You need a pressure regulator in air tools because it shows you everything you need to know about the air pressure inside the compressor. A built-in pressure regulator is better because it might be more efficient. A pressure gauge is one spec you might consider as a safety feature on your compressor. A pressure gauge will let you know when to refill the compressor and give you enough time to be ready for such situations.
v) Starter
You will need a magnetic motor starter or a capacitor starts the motor on your compressor. Ensure you know which starter the compressor has before making a purchase.
Final Take
Finding a reliable 60-gallon air compressor can be a bit difficult. A quiet 60-gallon air compressor is even harder to find. However, once you know what compressor you are looking for, you can narrow down your options and get the real deal. First, you need to understand exactly what you are looking for, from an oil-lubricated to an oil-free air compressor to one with a quick connector air fitting. Then, maintain the compressor to avoid a leaky air tank and other issues once you get it.
Your air compressor projects will never be the same again with a quiet air compressor. You can now do them quietly even from home without distracting the kids who might be gaming in the house.