Are you tired of constant noises from your car engine and exhaust pipes? Do you want to get the most from the quietest Magnaflow muffler to enjoy your exhaust system's performance-reduced noise and emissions?
Here is a quick guide to what makes an exhaust system perform exemplary and control the sound your car emits. First, we will explore everything you need to know, from the muffler design resonators to the sound absorption. Then, we will briefly explain how an exhaust system works and how its performance affects the vehicle.
Let us hop into this article to discuss some of the best quietest performance mufflers that can help you lower the exhaust noise. But before that, do you know what a muffler is? If not, let me give you a brief description plus its function in an exhaust system to get a clear understanding of this article.
What Is A Muffler?
A muffler is a device you can use in muffling the sound created by your motor engine. Normally, engines generate much power, thus creating pulsating sounds emitted through the exhaust pipe.
These pulsating sounds are generated every minute the car is in motion; that's why having a quiet performance muffler will help you reduce the noise. If your vehicle does not have the most silent performance muffler, expect a lot of noise from the engine.
Quiet mufflers function by dissipating loud sounds created by the engine's pistons and valves. Here is where we discuss how the muffler cancels out these sound waves. If you open a muffler, you will find a series of tubes, baffles, and chambers.
All the above components cancel the motor engine's sound waves. In addition, the sound waves reflect on canceling each other out. While we are looking at mufflers, it is worth noting that there are different types of mufflers, and each muffler creates a different kind of noise.
Types Of Mufflers
1. Chambered Mufflers
Chambered mufflers enable exhaust entering it to travel through different compartments and chambers. These types of mufflers have noise-stopping plates that deflect the sound pressure. As a result, they make the airflow less restricted than other exhaust systems.
This type of airflow increases horsepower, thus decreasing fuel consumption.
2. Glass pack mufflers
A Glasspack muffler is also known as a straight-through muffler since it has a simple design with a perforated pipe. The pipe is wrapped in noise-damping fiberglass, steel wool, or stone wool cased in a metallic shell.
The design enables it to improve horsepower but doesn't decrease the engine nose as much. If you want a quiet ride, you should go for a longer perforated tube from the outlet.
3. Turbo mufflers
Turbo mufflers are more about the sound they make while they are on highway speeds. The muffler has 3 or fewer perforated pipes inside instead o the normal 5 tubes. As a result, the exhaust flows faster than most stock units and has a better horsepower for optimal perform ance.
Turbo mufflers are quieter than most chambered or straight-through models. In addition, you can find some turbo mufflers wrapped with fiberglass so that they can have quieter exhausts.
Some of the best quiet performance mufflers are silent, while others are designed to emit a somewhat growling sound. Let us now discuss some o the best quiet performance mufflers in the market to ensure your engine performs optimally and has reduced noise.
What is the quietest muffler available?
| | | | |
| --- | --- | --- | --- |
| | | | |
| | | | |
| | | | |
| | | | |
| | | | |
1. Vibrant 3-Inch Ultra Quiet Resonator
Sale
Vibrant Performance 1142 3" Ultra Quiet Resonator
Designed to dampen exhaust noise, Facilitates undisrupted exhaust flow.Fit Type:...
Vibrant's Ultra Quiet Resonator utilizes a larger sound absorption chamber for better...
Constructed from t304 stainless steel
Features a "true straight through" perforated core
Withstands high exhaust temperature
The vibrant ultra quiet resonator is designed to dampen exhaust noise, thus facilitating undisrupted exhaust flow. If you want to achieve a subtle and efficient muffler, you should pick this one since it gives your overall engine performance.
It has proven to be one of the best quiet performance mufflers. The stainless steel muffler has a True Straight Through perforated core that is surrounded by sound absorption materials. In addition, it has a t304 stainless steel base that is good for resisting heat, corrosion, rusting, and even deterioration. These features make it a quality and durable, quiet muffler.
Regardless of its features, it is also aesthetically appealing, so it will blend well with any car, giving your vehicle a classy look. Its quiet operation is linked to the sound dampening components that reduce the exhaust noise up to 90%.
On top of that, it comes with a 5-year warranty from its manufacturer so you can exchange it if you experience any defects. If you are looking for a muffler that will give you ultimate quiet and engine performance, you should consider this one.


2. Dynomax Super Turbo Muffler
Dynomax Super Turbo 17731 Exhaust Muffler
Large internal flow tubes improve exhaust flow and reduce backpressure
Exclusive patented flow director design channels exhaust flow and eliminates...
Fiberglass matting technology to absorb unwanted interior resonance while maintaining...
Dyno proven to flow up to 700 SCFM
If you are looking for a budget-friendly quiet muffler, then the turbo muffler should be n your list. It has a super performance that features a patented flow director design that channels exhaust flow and eliminates any form of turbulence.
Dynomax super turbo mufflers contain large internal flow tubes that improve the exhaust flow, thus reducing the backpressure from the engine. If you don't want to spend much on a quiet muffler but want to get the best quality, it is best you settle with the turbo muffler.
The turbo muffler has gained popularity due to its functionality and noise control, among other quiet performance mufflers. The muffler is commonly used in heavy-duty engines. It has gained a lot of rates as the best quietest performance muffler that has an affordable price.
Due to its exemplary performance, it comes with other luxurious mufflers in the market. It is made of aluminized steel material that can resist corrosion and rust. Therefore, you can count on it to be very durable. In addition, this aluminized steel muffler comes with a strong noise absorption material, a fiberglass matting that absorbs the noise and vibrations from your engine.
In addition, it has a high airflow passage that produces a sporty sound. However, the sporty sound can only be heard when an airflow as high as 700SCFM enters the pipe diameter. So if you want to get that sporty sound, you rather go it this muffler.


3. Magnaflow Quiet 10416 Performance Exhaust Muffler
MagnaFlow Performance Muffler 10416: 4x4x14" Center/Center, 2.5"...
SIGNATURE MAGNAFLOW SOUND - The 4" x 4" Round body of muffler 10416 is engineered to...
DYNO-PROVEN PERFORMANCE - Extensive dyno testing is used to ensure that this 4" x 4"...
OPTIMAL ARCHITECTURE & CONSTRUCTION - The internal architecture of this muffler...
UNIVERSAL FITMENT - Universal design enables custom muffler placement and orientation...
LIMITED LIFETIME CONSTRUCTION WARRANTY - Performance that lasts. Enjoy worry-free...
The MagnaFlow 10416 exhaust muffler is the best quiet exhaust muffler with a universal fit. In this case, you can use it in any application, and it comes in various sizes and configurations that solve your vehicle's needs.

If you are looking for a quiet muffler for either your car or truck, worry less. The Magnaflow quiet exhaust muffler suits any car.
Its exhaust pipe is built with acoustic fiber and free-flowing materials that dampen noise. The free-flowing materials help in creating a quiet and deep tone once the engine is on. The quiet and deep sound is calming and relaxing thus smooth to hear while you are on the road.
Due to its competitive performance, it stays top in the market. Its brand is known for manufacturing mufflers and other automobile parts. The MagnaFlow muffler is built from 100% stainless steel material, making it resistant to heat and oxidation. It is also strong enough to resist weather conditions, thus making it a durable fit.
This quiet performance muffler has a unique and aesthetically appealing polish that makes your car look good and stylish. The MagnaFlow universal mufflers are known for their exhaust system performance and for improving your overall vehicle performance by giving it a distinctive look.
If you want this muffler to last long, you can extend its durability by coating its body with a rust-proof spray. In addition to its guaranteed performance, It stands out as an affordable muffler that offers you great performance.


4. Borla S-Type Muffler
Sale
Borla 40842S S-Type Muffler, 2.5 inch
Engineered to provide excellent exhaust emission and internal power generation
Features a multi-core technology
Manufactured from T-304 stainless steel
Provides brilliant fuel economy and increase horsepower efficiently.Easy installation
Case diameter:10" x 5" diameter round;Overall Length:15 INCHES
The Borla S-type muffler is designed to increase horsepower, thus great for minimizing your fuel consumption. In addition, it is the right quiet performance muffler as it helps you keep the volume on the low by giving you a bass tone that does not drown the sound completely.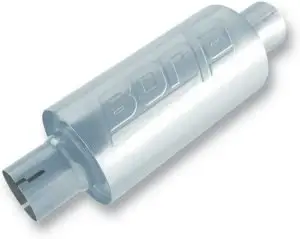 It gives you a deep and rich sound that not all mufflers can achieve. It is also made from stainless steel, a durable material that can last well in high climates and is quite more affordable than other models.


5. MBRP 31 Inch Aluminized Quiet Tone Muffler
If you have a small truck and need to tone down the noise, you can choose the MBRP muffler to maintain a low, smooth growl. It is a straight-through muffler, thus increasing the airflow in your engine, making it cool. It might not drown out all the sound, especially if your vehicle is loud, but it will smooth out most of the drone.
Although the price of this muffler is quite high, the material is made from aluminium; thus, it is rust-resistant. If you spent more on a muffler, it would be best to go with a stainless steel one since it is more durable than aluminium.


Factors To Consider When Buying The Quietest Magnaflow Muffler
1. Sound Effectiveness
It will be a loss for you if you end up picking a noisy muffler after going through this article. It would be best to consider how effective the muffler you buy will be in noise cancelling. The size and capacity of the muffler you pick can help you determine how your muffler will sound when the engine is on.
As discussed earlier, mufflers have chambers and baffles that low passage of exhaust air from the engine. Choosing a muffler with these features will allow air passage, thus reducing noise levels and creating quiet sound quality.
To know if you choose the best muffler, check whether it can dampen exhaust noise, enhance engine power, or reduce fuel consumption.
2. Price
Mufflers come at different prices, so it will depend on your budget. However, if you want a durable, quiet muffler, it is best to go with the most expensive models. You can also get affordable ones that can last you for a very long time if you use them normally.
You can still buy a much more expensive muffler that does not translate to its performance. Instead, look for a quiet muffler with a reasonable price that is effective in terms of engine power and a more silent exhaust system.
3. Fit and Installation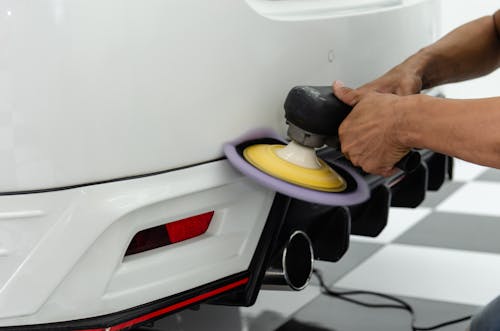 In most cases, you will find performance muffler models that have a universal fit while others shave specific dimensions to your exhaust system size. It is good to check with the manufacturer the muffler you want to go with will fit your car type.
It is worth noting that even if you go with a universal muffler, you may require some bolting or even welding for it to fit in certain car types. If you are not experienced in muffler installation, you can take your car to a local mechanic so that they do it properly. In most cases, a universal muffler can fit your car but if not, a mechanic will be able to put your vehicle in the condition your muffler will work well on it plus you will get the most out of your purchase.
4. The Base Material
The base material is essential in determining the durability of the muffler. If you're going to use your vehicle daily, you will expose the muffler to harsh weather conditions such as rain and excess heat; for your muffler to resist all these conditions, you need to choose a durable one.
If you want to avoid corrosion, rusting, deterioration, and oxidation, the durable fit is of concern because, after all, the base material is a strong determinant of how long your muffler is going to last. Below are some of the base materials used in most mufflers.
a). Stainless Steel
Stainless steel is a popular material used in most appliances because of its durability and aesthetic appeal. In addition, stainless steel is corrosion-resistant, making it suitable for any type of climate condition.
It is lightweight, but it will not be ideal if you want to customize your muffler since it is difficult to bend or weld it. Mufflers are made using two different types of stainless steel grades. The type you choose depends on o your preference. If you want the best durable quality, you should go for stainless 304, a marine-grade material. It can resist elements and salts and has a lifespan of up to 20 years.
If you want a base material for industrial purposes, it is best to go with stainless 409 since it is more affordable. It is commonly used in-vehicle mufflers and has less chromium. It is also aesthetically pleasing and can last you up to 8 years.
b). Aluminized Steel
We are looking at a material that can resist the harshest conditions, and this is the one. It has a high heat resistance which is favourable for use in hot weather conditions. In addition, Aluminized steel is a good thermal conductor, so if you want to use it in areas of dry clients, it will be a win for you.
It comes in an aluminized coating that is rust and corrosion resistant, but it will be exposed to oxidation, thus rusting if the coating gets scratched. However, you can easily customize it to your liking since it can be welded. Aluminized steel is durable and can last for up to 10 years. It is also affordable compared to stainless steel, thus a great option if you are on a tight budget.
c). Titanium
If you want strong and rigid base material or a durable muffler, you have to opt for titanium ones. These materials are stronger than stainless steel but come at a very expensive cost. They are also lightweight, so you don't have to worry about adding extra weight to your car.
Titanium can resist heat, rust, and stains compared to other base materials. The material is popular in balancing airflow and lowering engine noise without compromising your engine performance. Due to its lightweight, it produces a metallic sound.
Frequently Asked Questions On The Quietest MagnaFlow Muffler
1. What Is The Difference Between A Muffler And A Resonator?
A better performance muffler reduces engine noise and exhaust volume across the full RPM range. A muffler uses perforated tubes, directional changes, baffles, or insulation to moderate the exhaust noise. A muffler's main role is to determine how loud the sound of a car will be or the tone a vehicle will make; it could be a deep roar or a scream.
On the other hand, a resonator removes the noise or resonance mentioned earlier as an "exhaust drone." The drone is also released at a specific RPM range. Resonators do not normally reduce volume, but they eliminate the pingy raspy hum by controlling frequency waves.
A resonator can enhance the sound by canceling out certain sound waves frequencies at a defined RPM to get a more comfortable sound. Thee is a visible difference between a muffler and a resonator, but they work together as part of the vehicle's exhaust system. The exhaust controls and sets the volume while the resonator modulates the tone of the sound.
If you want your resonator to be effective, you should place it concerning your muffler. Consider the type, engine size, and RPM impact range if you want quality sound. A muffler and a resonator should complement each other to deliver optimal performance.
2. Which Type Of Muffler Is The Quietest Performance Muffler?
The quietest performance mufflers are identified through their internal design characteristics. A quiet performance muffler can either be a reactive one o an absorptive one. In rare cases, you can find that a performance muffler is both reactive and absorptive. A reactive muffler has a chamber design, while an absorptive one has a glass pack or a turbo design.
You can only gauge the performance of a muffler through its capability of being silent. The best quiet mufflers produce less noise; they have a more restrictive airflow to the reflected amplitude pressure waves. The airflow restriction results in less noise, which decreases fuel consumption and increases engine efficiency—the best quiet performance muffler balances how to control sound and backpressure.
3. What Makes A Muffler Quiet?
Many factors are in play when manufacturers design a muffler. As a result, you can never get a muffler size that fits all types of vehicles. Mufflers are different in engine size, horsepower, exhaust length, exhaust diameter, exhaust ports, pipe diameter, and even in design.
If you want a quieter muffler, you should balance the cabin noise levels and the exterior sound and volume. If a muffler can dissipate sound pressure and reflect frequency waves so that they cancel each other out, that is the right muffler to go with. A muffler that can do that without disrupting the exhaust flow makes it the best quiet performance muffler.